About Dinkel Chiropractic
Our Family-centered Practice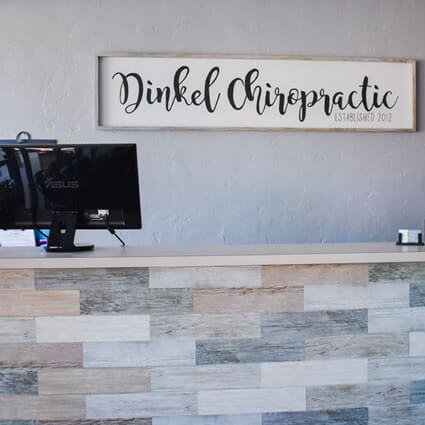 Since 2012, we've created a practice environment that celebrates family wellness. Dinkel Chiropractic is passionate about working with community members of every age, from newborns, babies and children, to moms-to-be, athletes and kids with special needs.
We have a reputation for excellence in delivering gentle adjustments that help our patients to not only eliminate pain but to enjoy a higher quality of life through optimized function.
Our Practice Philosophy
We excel in working with the nervous system. Our adjustment technique is not only gentle and safe, but comfortable as well. The mission for our office is to restore mobility and function so that every patient can live the best life possible.
Our Hope for You
Our wish is for every patient to live their life to the fullest. We want you to feel much better at the end of the day than you would've without the benefits of chiropractic care. It's our desire to help you to sleep better, perform better and feel better because your nervous system is super-charged and in full function mode. We hope that our patients can learn, from our example, to look upon themselves in the capacity of "wholeness." This wholeness is exemplified by exercising regularly, making better food choices, eliminating bad lifestyle habits and choosing to optimize health and happiness through chiropractic care.
Over the years, our passion for what we do has grown and evolved. We know we can make life better for the members of our community, and we'd love the chance to help you and your family. We hold a special place in our hearts as well for special needs kids, including those with spina bifida, Down syndrome and autism spectrum disorders. Contact us today for a free consultation!
---
About Dinkel Chiropractic | (913) 338-0907