Dinkel Chiropractic Reviews
What Our Leawood Patients Say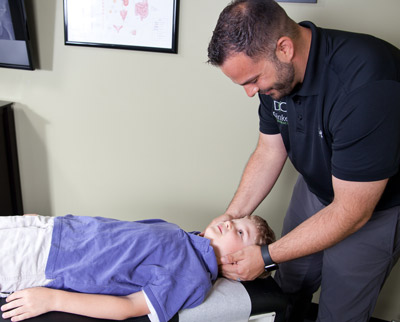 At Dinkel Chiropractic we love when patients share with us their feedback and comments after chiropractic care. Please read our patient testimonials below to see what other people have achieved through their tailored treatment plans with us.
Share your stories too! Click here to send us your feedback so that we can help to spread the word about the benefits of natural Dinkel Chiropractic care.
For more information, or to schedule an appointment contact us today.
---
I cannot thank Dr. Dinkel enough for all he has done for my health! I feel so much better and I am a much happier person now that I'm not in pain all the time!Danielle S.
"Truly Cares About His Patients!"
My 14 year old daughter was diagnosed with Complex Regional Pain Syndrome after breaking her ankle in a basketball game. She had extreme pain in her foot that spread to her whole leg, then her other leg and even occasionally to her arms.
She was in physical therapy from the time of the break, but her pain didn't lessen enough to get her off crutches for five months. We also tried acupuncture, neurofeedback counseling and another chiropractor. Her pain would lessen a bit, but then return. It was a parent's nightmare – nothing we tried seemed to relieve her pain completely.
About a year after her original injury, we started seeing Dr. Dinkel. He adjusted her back, knee and foot twice a week at first, tapering off to once a month now, and her pain improved dramatically. She is now having no pain and thinking about playing sports again. I recommend Dr. Dinkel highly. Not only is he skilled, he is also a really nice guy who truly cares about his patients and their well-being!
-Patti C.
Since going to Dr Dinkel for the first time 2 months ago I now have no more headaches AND my grinding my teeth at night is getting better! Hollyn R.
"I haven't had a headache for months! "
Dr. Dinkel is a LIFE SAVER! Prior to my first visit with Dr. Dinkel, I lived with headaches and migraines on a near daily basis and thought it was just a part of my life. After X-rays and a review of my symptoms, Dr. Dinkel set me up with a program that has changed the way I feel every day. I have not had a headache in months and have never felt better. I continue to see Dr. Dinkel for ongoing maintenance and constantly refer his services to friends and family. Give Dr. Dinkel a try and you will never search for another chiropractor again.
-Brady P.
My latest pain, when I went to see Dr. Adam J Dinkel, DC, was a sore back and a stiff neck. I also mentioned to him i was experiencing a ringing sound in my left ear and loud hissing noise. Dr. Dinkel used Acupuncture treating both ears. The ringing and static noise is no more.
Sherrill C.
"Days & Nights Are Pain Free"
I came into see Dr. Dinkel having numbness and shooting pain in my left leg/foot for many weeks with no relief and a history of back injury. I started seeing Dr. Dinkel in hope of, at least, getting enough relief to sleep through the night. After a few visits the pain/numbness was gone for the most part. Back pain was also less.
After a couple of weeks, Dr. Dinkel had worked his magic and no longer have the numbness or shooting pain at all! My back injury of 20 years was significantly improved as well! My days and nights are pain free. Believe it or not, he was also able to provide relief from many years of allergy and sinus symptoms as well! Thank you Dr. Dinkel.
-Bryan F.
I initially started seeing Dr Dinkel about 4 months ago. At that time I was a cigarette smoker and very overweight. Due to Dr. Dinkel's support, encouragement and treatment, I can move without pain, I'm not smoking and breathing better, and I've lost 10 lbs! Dr. Dinkel truly cares about me and my family.
Belle W.
No Migraines & No More Prescription Medication!
Dr. Dinkel has helped me in SO many ways! Not only am I living a life COMPLETELY migraine free because of his care, I also overall feel much better. Through chiropractic care, I've seen improvements in:
mood
sleep quality
depression/anxiety
stress
immune system
headaches/backaches
These are just a few of the things Dr. Dinkel has helped me with. I am now off of ALL prescription medication!! I am so thankful for his care, and would highly recommend to anyone looking for a great chiropractor!
-Becca S.
"Comfortable & Professional Environment"
I have been seen by Dr. Dinkel for over four years. I had chronic migraines and headaches for over a year. Other medical professionals put me on medication after medication, after which I felt no relief. The gentle yet thorough treatment Dr. Dinkel provided was the only thing that helped. After a short period of time I not only felt complete relief from migraines and headaches but felt better from head to toe.
I continue to utilize Dr. Dinkel's services for maintenance chiropractic services because he provides a comfortable and professional environment. Dr. Dinkel has always been willing to work with me on a payment plan when my insurance didn't cover chiropractic services. I have and always will recommend Dr. Dinkel to anyone I meet!
-Maci L.
"100% Satisfied"
A few months ago I searched for a chiropractor just like you are today. I had hip pain as well as pain in my back. Every movement was very uncomfortable. Dr. Dinkel came up with a plan, now I able to run and be active like I want to be PAIN FREE! I am 100% satisfied with the service Dinkel Chiropractic provides!
-Jaedy R.
Left Shoulder Pain Reduced!
Dr. Dinkel is the first chiropractor that I have ever seen. Before going to him I was real leery of chiropractics. I just assumed they would pop your back and take your money. Dr. Dinkel however was the opposite. Between working in IT and sitting in front of computers all day and the fact I had a bad four-wheeling wreck about 6 years ago and ever since then I could not sleep on my left shoulder due to the aching pain. I was finally convinced to visit Dinkel and he was very thorough and listened to where my pain was at.
He took the time out of his busy schedule to consult and discuss our options at no cost to me. After that he took a few x-rays to see how my body sitting and could tell what I was favoring and where to concentrate on adjusting. I have been going to him for about 7 months now and I have almost zero pain in my left shoulder and can sleep on my left side like a baby again. He has helped me more than I could ever repay him.
Thank you so very much!
-Brandon B.
Dr. Dinkel is a great chiropractor. He is kind and understanding, and a very skilled adjuster. I have referred family and friends to Dr. Dinkel because I trust him and know he will deliver great care.
Scott R.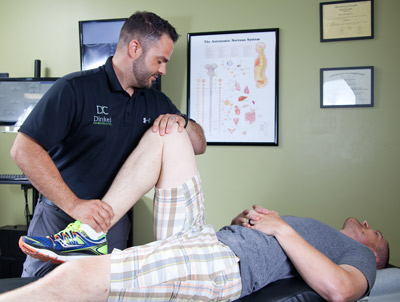 Recovering Much Quicker From Sports Injuries
Can't say enough about Dr. Dinkel. My wife and I both live very active lifestyles and probably go too hard for our own good but Dr. Dinkel has helped me recover from many sports related injuries QUICKLY.
I was hesitant about seeing a Chiropractor at first since I have been to some shady ones in the past but he is a straight shooter and he wants you to get better instead of other Chiropractors that want the repeat business.
-Sean H.
Exciting Update To Report!
Excellent Doctor to go to. We had been recently involved in a major car accident. Not only has he given us peace of mind, but he has also gone out of his way to help us seek other help "In a completely different state" To help us along the way. He treats you like family and there's nothing better than to work with a professional that not only knows what he is doing, but also treats you like you are one of his own in a time you are grieving and walks you through LITERALLY every part and every step. Glad we were referred to you, Thank You!
UPDATE:
We have completed our treatment with Dr. Dinkle, and gosh… What a difference! I was hesitant at first, when he said he would get me up and running again in a few weeks and boy was he right! Throughout the entire process I felt ZERO pain, and every time I left We left feeling like we just got out of church. I feel fantastic! I am back to my normal routine and can move better than what I used to. All the visits and the drives were definitely worth it.
In the future it is obvious that when we need a chiropractor who we would go see.
Thank You for everything Dr. Dinkel, you were heaven sent!
-Calix R.
Dr. Dinkel saved my volleyball season! I sprained my back from playing and he was able to help me get better in a short time. Dr. Dinkel was a huge help to my family's wellbeing and was the best chiropractor in Kansas, after we searched for one after the other, when we moved there. He also was a joy to see and I enjoyed every second of my time in his office.
Reily H.
Dr. Dinkel Immediately Put Me At Ease
Let me start by saying that if I could give 10 Stars I would. Dr. Dinkel is an outstanding professional who gives the highest level of quality care. His patients come first and he is committed to helping each one of them. A trait that is hard to come by in this day and age of hands off, insurance dictated, liability driven medical care where people are treated like a number.
I first saw dr. Dinkel after a hospitalization where multiple professionals and specialists could not figure out why I had numbness, paralysis, and pain in my neck and face. After thousands of dollars on unneeded testing they still were guessing and I was still miserable. Not one of them seem to care to find the reason for the symptoms or to even talk with me about the possibilities.
I saw Dr. Dinkel after another trusted professional recommended his office because they had received outstanding care. I'll never forget walking through that door….terrified, exhausted, and almost out of hope…. Dr. Dinkel immediately put me at ease. He talked with me in depth, asked questions, listened and spent lots of time discussing the different possibilities/causes for my symptoms. He reassured me that everything would be ok and that he would be able to help me.
Within that first consultation he figured out exactly what was going on. He set up a treatment plan….I felt relief immediately and within a few weeks I was back to normal. Every visit I was treated with kindness and compassion. Every visit I improved.
I continue to see Dr. Dinkel for regular Chiropractic maintenance along with my children to help with allergies, asthma, sports injuries, etc. I am extremely particular about health care providers and the services they are offering. I give Dr Dinkel my highest recommendation. He is an outstanding doctor!
-Kate H.
"I Would Recommend Him Without Hesitation"
It was by chance that I stopped into Dr. Dinkel's office. I had been suffering from some chronic bad back pain for over a year, and I was skeptical that a chiropractor could help. My dentist's office is right next door and after a cleaning I decided to pop in as it wouldn't hurt to get more information. Dr Dinkel took some xrays which clearly showed the problems with my back. He then recommended a plan to get things worked out. I figured it was worth a shot rather than being in pain all the time or not being able to "trust" my back. It took a number of frequent visits, but eventually the pain that I had grown used to started going away and now I'm just on maintenance. That means I go in once every three weeks, and I can always tell when it's time!
It is not cheap or immediate therapy, and you shouldn't expect that, but it works. Dr. Dinkel and his staff are always very friendly and accommodating as well. I would recommend him to family and friends without hesitation.
-Dan M.
"I didn't have to get surgery which was awesome"
I started going to get some relief with carpal tunnel symptoms and found great relief. I didn't have to get surgery which was awesome. I ended up getting pregnant not long after starting chiropractic services for the first time, and decided to keep going regularly. Dr. Dinkel's office was a huge help through my entire pregnancy! I looked forward to my visits especially during my later months! I received relief from headaches, back pain, hip pain, and also felt like I would get better rests on the nights after adjustments. I will be continuing to go, and bring the baby in a heartbeat if he needs anything.
-Emily J.
Skeptic turned Believer
Dr. Dinkel and Kelly are awesome! I was skeptical of chiropractors but was referred to him when I had debilitating neck pain a few months ago and now I am a believer! He is one of the good ones and truly cares for all of his patients.
-Lindsey B.
"He's a miracle worker!"
Dr Dinkel did a phenomenal job of putting me at ease when I first came for treatments, and continues to do so! I had never received chiropractic treatments prior to two months ago and was a bit skeptical to say the least. He was so thorough in his research and knew exactly what to expect with my specific situation prior to treating me. His technique is gentle and incredibly effective. When I first arrived, I was suffering from neck and lower back pain. Now I can say I'm well on my way to feeling 100% all thanks to Dr Dinkel! To top it all off, I'm greeted by Kelly, by name, every time I'm in. She is so friendly, personable and professional. Together they both bring outstanding, quality service to their patients. It is evident their top priority is patient care and building relationships to last a lifetime. If you've ever thought about seeking chiro treatment, but are fearful, give Dr Dinkel a chance to better your quality of life! He will walk you through his entire process and won't proceed unless you're completely comfortable. He's a miracle worker!
-Kris M.
---
Dinkel Chiropractic Reviews | (913) 338-0907